The Gifts of Multiculturism

16th March 2016, Canvas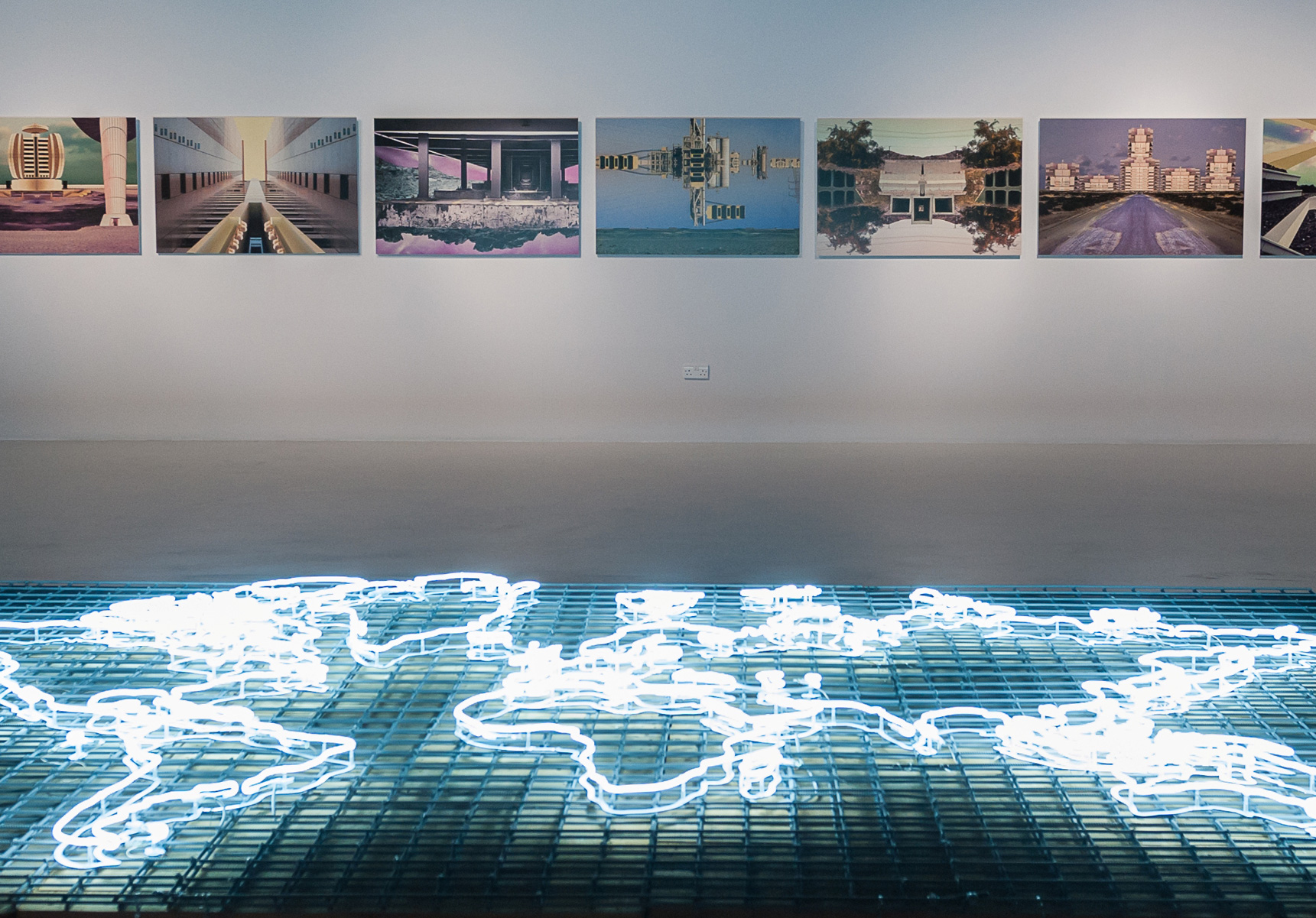 Al Haraka Baraka: In Movement There is Blessing at Maraya Art Centre reveals how cultural migration in the UAE has shifted artistic production.
By: Staff Writer. Canvas.
Unlimited Arab Exploration (U.A.E.) is an initiative established by HH Sheikh Zayed Bin Sultan Bin Khalifa Al-Nahyan in 2015 to support a new generation of emerging Emirati and UAE-based artists. To fulfill this mission to advance the young country's cultural landscape, this initiative commissions the production of new work which is then showcased in an annual exhibition.
The inaugural exhibition Public Privacy was held in March 2015 at the Dubai Community Theatre & Arts Centre. Curated by two internationally-recognised Dubai-based artists, Mohammed Kazem and Cristiana de Marchi, the exhibition explored the theme of the divisions between public and private spheres by looking at how a new generation of local artists tackle the issue from within a society that is dominated by traditional values. The exhibition included works by four emerging Emirati artists, Shaikha Al-Mazrou, Shamma Al-Amri, Hamad Al-Falasi and Mohammed Jumairy, alongside two more established artists, Vikram Divecha and Monira Al-Qadiri, from India and Kuwait, respectively.
The second edition of the U.A.E.'s annual exhibition, entitled Al Haraka Baraka (which translates in English to "In Movement There Is Blessing"), opened on 25 February at the Maraya Art Centre in Sharjah. Developing on the theme of the previous exhibition, Maraya Art Centre curator Alexandra MacGilp, working closely with Shobha Pia Shamdasani, director of Unlimited Arab Exploration, assembles a group show inspired by the theme of migration. Ten artists were commissioned to produce work in any media to represent their personal experience of living in the UAE, a country that over 75 different nationalities call home. After decades of serving as a haven for migrants seeking to flee war and unrest or to pursue new opportunities, UAE society maintains a uniquely fluid multicultural identity shaped by these continuous waves of migration since the founding of the nation in the early 1970s. Al Haraka Baraka includes commissioned works in various media and by a diverse group of young Emirati and UAE-based artists at different stages of their careers, including Ammar Al-Attar, Alaa Edris, Reem Falaknaz, Hazem Harb, Zeinab Al-Hashemi, Tulip Hazbar, Hind Mezaina, Khalid Mezaina and Walid Al-Wawi. The tenth artist, Mohammed Ahmed Ibrahim, one of the UAE's pioneers of conceptual art, is a special guest at the exhibition and presents one of his iconic land art pieces alongside works by members of this new generation of artists.
Highlights of the exhibition include works by three mid-career artists of Palestinian-descent currently residing in the UAE: Al-Hashemi, Harb and Al- Wawi. Al-Hashemi's large neon map installation entitled Within the Grid lies on the floor at the centre of the exhibition space speaking to the interconnectedness of a global community of migrants. Harb presents a sculptural installation entitled Unlimited Progress that explores the interplay between time and urban change and Al-Wawi offers a three-act performance piece in a historical structure on Al-Khan Beach. Other notable works include Hazbar's series of illustrations and soundscapes that reflect the different styles of music listened to by the diverse UAE population and Hind Mezaina's The Color of Happy, time-appropriate digital images given the UAE's recent appointment of a Minister of Happiness. Unlimited Arab Exploration's collaboration with Maraya Art Centre on Al Haraka Baraka asks visitors to consider the composite of diverse narratives and how these personal stories fit within social patterns and wider geopolitical shifts of the UAE and the larger region. While it may provoke its viewers to look at their society with fresh eyes, it also offers insight into the UAE's evolving landscape in both the literal and metaphorical senses, presenting a realistic perspective on the UAE and its ever-changing identity through the engaging and provocative production that its young artists are capable of.