Sheikha Bodour Al Qasimi, Sheikh Zayed bin Sultan attend Al Haraka Baraka exhibition opening

27th February 2016, Emirates News Agency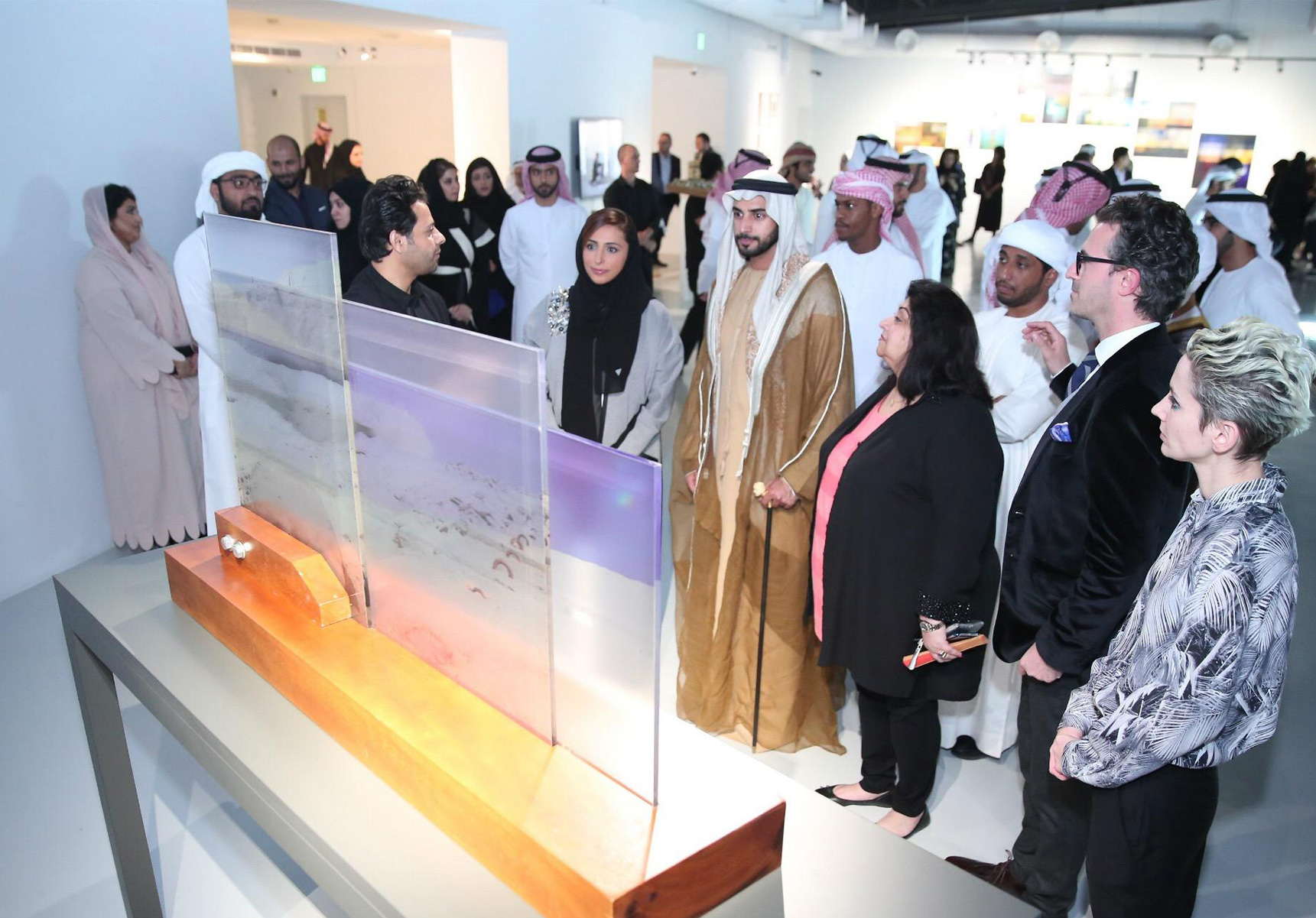 Sheikha Bodour Al Qasimi, Sheikh Zayed bin Sultan attend Al Haraka Baraka exhibition opening
Source: Emirates News Agency

SHARJAH, 27th February 2016 (WAM) --- Sheikha Bodour bint Sultan Al Qasimi, Chairperson of the Sharjah Investment and Development Authority (Shurooq), and Sheikh Zayed bin Sultan bin Khalifa Al Nahyan, attended the opening of 'Al Haraka Baraka' exhibition on Thursday at the Maraya Art Centre.

The exhibition, themed "In Movement there is Blessing", is being held in collaboration with the "UAE Unlimited Arab Exploration" initiative that seeks to nurture and support emerging local talent, and will run until April 30th.

"Al Haraka Baraka" exhibition features artworks by Ammar Al Attar, Alaa Edris, Reem Falaknaz, Hazem Harb, Zeinab Al Hashemi, Tulip Hazbar, Hind Mezaina, Khalid Mezaina, Walid Al Wawi and Mohammed Ahmed Ibrahim.

Curated by the UK's Alexandra MacGilp, the exhibition explores the impact of cultural diversity on the multinational mix of people coexisting in the UAE over the past 40 years, through contemporary artworks that depict the country's past and present in different artistic styles.

Sheikha Bodour, and Sheikh Zayed bin Sultan bin Khalifa Al Nahyan, patron of the UAE Unlimited Arab Exploration initiative, toured the exhibition accompanied by Marwan bin Jassim Al Sarkal, CEO of Shurooq, Ahmed Obaid Al Qaseer, COO of Shurooq and Giuseppe Moscatello, Director of Maraya Art Centre.

She expressed her delight at the artistic cooperation between Maraya Art Centre and the Abu Dhabi-based "UAE Unlimited Arab Exploration' initiative which brought this exhibition that reflects the positivity of the cultural and intellectual interaction between people in the UAE.

She praised Sheikh Zayed bin Sultan bin Khalifa Al Nahyan for supporting art and artists in the UAE and his interest in holding "Al Haraka Baraka" exhibition in cooperation with Maraya Art Centre in Sharjah.

Sheikha Bodour said, "Culture and art are the most important elements to reflect and immortalize the beauty of any country. It is wonderful to see an elite group of Emirati and resident artists express their own experiences within a diverse cultural mix through great works of art. I invite all visitors and residents in Sharjah and the UAE to visit this exhibition and enjoy artworks that reflect the reality of our daily lives in our beloved country."

The theme of the exhibition explores the vibrant melting pot of cultures in the UAE, as a result of migrations both past and present. The theme reflects transitions in geographies and nationalities that leave their traces in family names, local dishes, customs, costumes, music, dance and cultural practices.