Curator in Focus

25th February 2017, Artmap

Curator in Focus
By: Munira Al Sayegh. Artmap.
Central to Emirati curator Munira Al Sayegh's practice is the multinational nature of the UAE. Her Abu Dhabi childhood was characterised by a curiosity towards everyone around her, "how we all fit into this puzzle," she explains, "and how to look at change critically, from an anthropological and sociological perspective." This interest would take her to London's SOAS, where she studied the history of art and archaeology with a geographical focus on the Middle East. An internship at the Guggenheim in New York followed, along with stint as an assistant producer on NYU Abu Dhabi's FIND research project, before she returned to the Guggenheim, this time as a programme officer in its Abu Dhabi arm. Her curatorial resume includes being co-curator of Art Dubai Projects in 2014, assistant curator of Emirati Expressions in 2015, and most recently, the curator of the 2017 edition of U.A.E. Unlimited, Bayn: the in-between; she also sits on the advisory council board of NYU Abu Dhabi Art Gallery.
Al Sayegh is one of very few curators working locally and is, as such, doubly aware of being either branded or pedestalised because of her nationality. She elaborates, "What it means to label artists and curators as Emirati, and whether that leaves room for non-Emiratis who are a major part of the dialogue taking place in the artistic landscape, is a constant battle, seen in the majority of my work, text, and thoughts." Even as she feels a certain burden of representation—"the nation is undeniably a part of me"—she sees the role of a curator as one of honest, critical reflection, explaining, "To me what it means to be a curator is to honestly reflect upon a time, and represent the story of this time through visuals, sound, and any other form of representation." She compares her work, in which she might have to pay attention to mood, scenography, and the demographics of an exhibition as much as to its theme and the works it contains, to authoring a life-sized picture book for adults.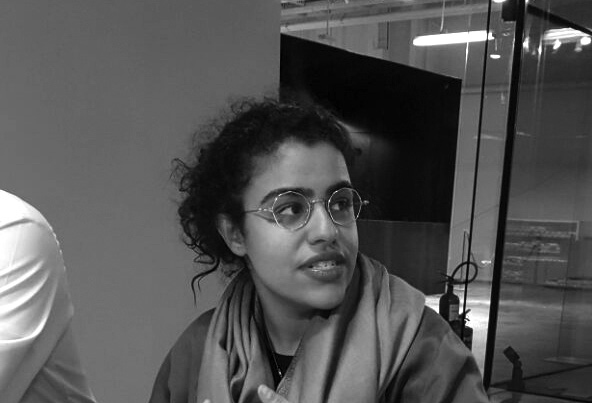 The accelerated speed of development here also impacts her thought process: "The rapid change that this young country has gone through, in addition to the constant shifts that continue to take place around us, has instigated questions of identity, social hierarchies, and a rearranging sense of language." And contra characterizations of the art world as a rarified sphere detached from the realities surrounding it, she believes that it is something that "evolves as we evolve; it brings about a moment of reflection, criticality, and understanding." At the same time, she remains vehement about the importance of not relying on the commercial art market and its circuits of commodities, describing what we need as "a mental revolution to stand far from galleries," where we first "define who we are before selling ourselves."